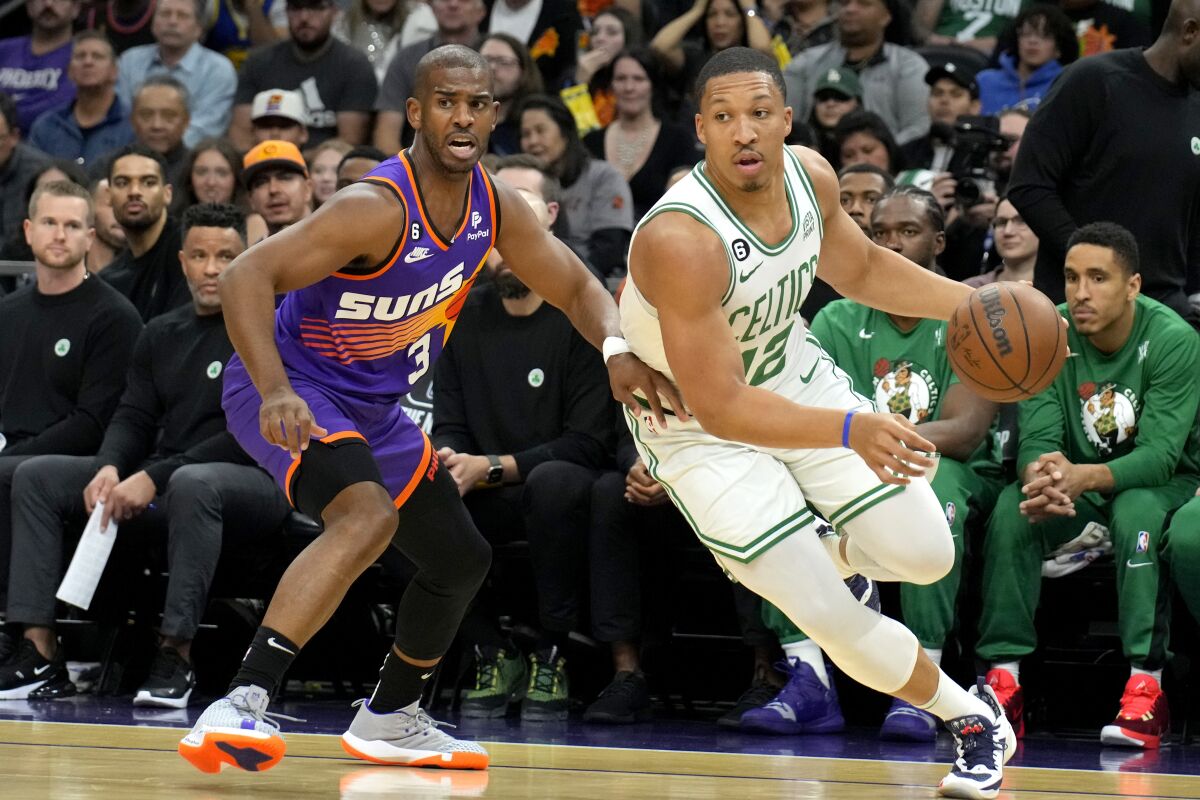 PHOENIX — The Boston Celtics' 69 points in the first half helped them cruise past the Phoenix Suns 125-98 Wednesday night in the first matchup of their west coast trip.
Jayson Tatum and Jaylen Brown each put in 25 points with a combined 12 rebounds. They were a crucial part to the hot offensive output in the beginning of the game.
The game began competitive in the first few minutes until the (21-5) Celtics began getting hot towards the end of the first quarter scoring 31 points. That didn't stop there, the C's scored 38 points in the second to go into halftime leading 69-42.
For Boston, their entire roster got involved on the scoring. With Al Horford out, the Celtics looked to Blake Griffin to start at the 5 and he finished with 9 points and 9 rebounds. Grant Williams was perfect from the field on all six of his shots, he finished with 14 points.
The bench scoring for the C's was strong too. Luke Kornet, the Celtics big man was also perfect from the field and finished with a dozen points. Malcolm Brogdon put up 16 points of his own.
The game got out of hand quick. The largest lead for the Celtics was 45 points. And the Suns couldn't buy a bucket from behind the arc only hitting eight three's. Phoenix shot a poor 25% from deep.
"You enjoy the moment, but you've got to understand why you did it," said Celtics head coach Joe Mazzulla. "Then you've got to know that it's a long year. This could happen to us. It might not, but we're going to go through some type of obstacles throughout the year."
Both Chris Paul and Devin Booker struggled. Paul finished with just 4 points, and Booker had 17. Their leading scorer came off the bench in Josh Okogie who dropped 28 points in 23 minutes.
The all-around defense of the Celtics was impressive as well. Their ability to defend on the perimeter is what makes them so lethal in transition. Since everybody on the Boston team can dribble up the court, every steal, missed shot, or turnover leads into a bucket on the other end. The suns just felt the wrath of that.
Next game for the Celtics will be a 2022 NBA Finals rematch against the Golden State Warriors on Saturday.