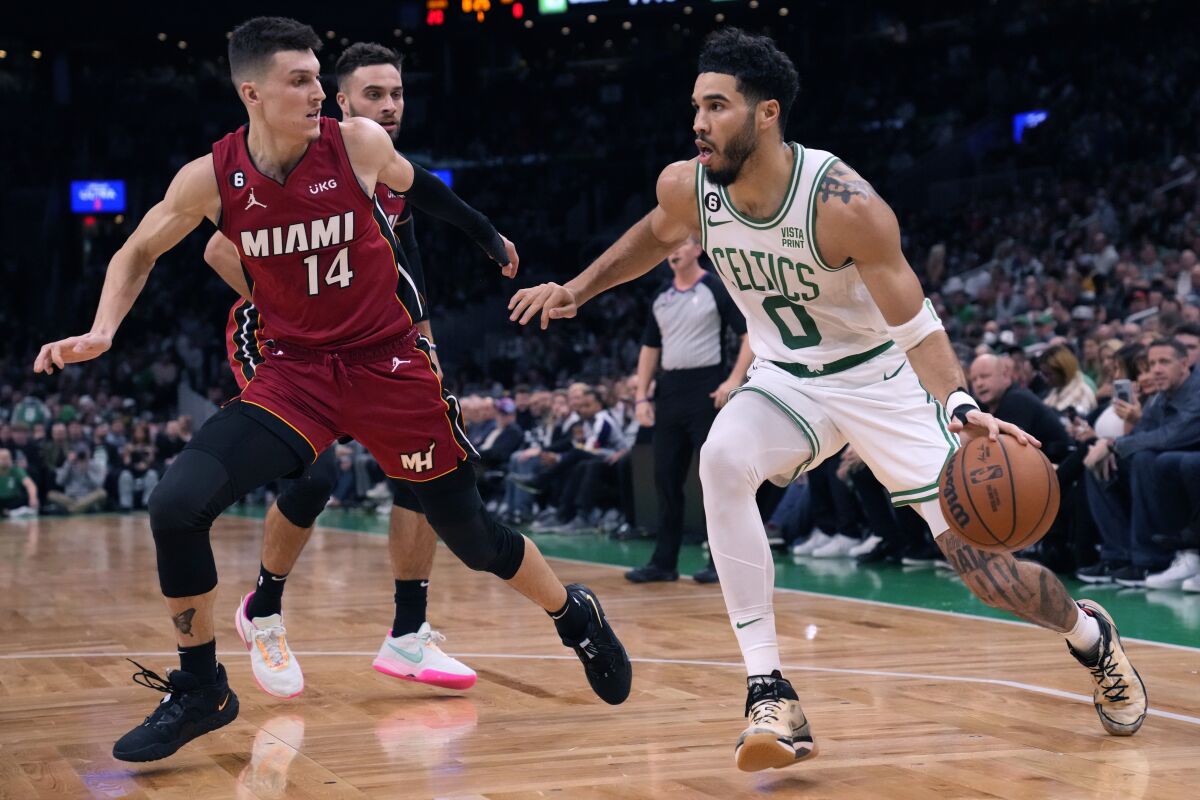 BOSTON — Jayson Tatum's 49 points helped the (18-4) Boston Celtics defeat the Miami Heat 134-121 Wednesday night.
Tatum, has been in the MVP talks as of late from his high offensive output throughout the first quarter of the season. He's fifth in the league in scoring with 30 points a game, and a win like this over their 2022 eastern conference finals opponents will only amplify it.
Tatum also finished with 11 rebounds and made eight three's.
For the rest of the C's, they've continued their hot streak as being one of the best shooting teams in the league. Malcolm Brogdon came off the bench with 21 points. Jaylen Brown finished with 26 points. Derrick White had 15 points and Marcus Smart finished with 10. Five Celtics scored double digits.
The C's jumped out to an early 6-0 lead before the injury-stricken Heat eventually fought back. It was a big back-and-forth matchup as expected with the Celtics up at halftime 68-60.
The second half was much of the same thing. Bam Adebayo, Max Strus, and Tyler Herro all kept the Heat afloat with their 20+ scoring each. Adebayo and Strus finished with 23 points while Herro had 22 points. The Heat were without Jimmy Butler, missing his presence, they had to put longtime veteran Udonis Haslem in the game for nine minutes.
Although the Heat fought back for a large part of the game, it felt as if they were trying to keep up with the hot Celtics. Eventually, with 5:20 left in the game with the score 118-115 Celtics way, Tatum and Brown would go on to get big buckets to put the game away.
Although the C's came out with the W, the game was never fully secured. The largest lead was only 14 for Boston. The C's turned over the ball 18 times and allowed nine offensive rebounds. With Robert Williams still out and Luke Kornet coming off the bench as the next big, the inside presence is missed.
Right now the Celtics sit at the top of the NBA food chain with the best record. With the addition of Brogdon coming off the bench and scoring, plus Kornet being a band-aid for Williams' absence, the C's should be feared when fully healthy.
This game is one of the back-to-back games they'll face with the Heat. Round two will be on Friday in the Garden once again.