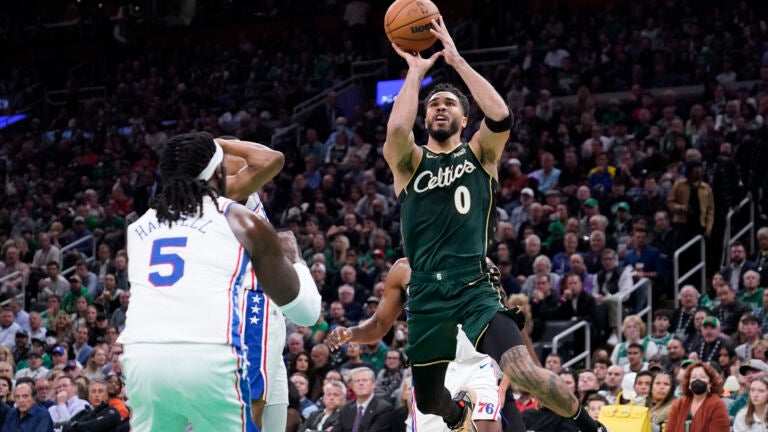 BOSTON — Despite all the background noise in the offseason, the Boston Celtics defended their home court on their season opener against the Philadelphia 76ers Tuesday night 126-117.
Boston rallied behind their lethal duo in Jayson Tatum and Jaylen Brown's combined 70 points to get their first W of the season. Tatum and Brown's 35 points a piece set the C's up nicely, especially in the second half.
"It was just unique and special," Brown said. "It feels a little bit better knowing who we were playing and who we were playing for."
Perhaps the bigger story is the guy I've been saying needed to step up for the green this season, that's Grant Williams. Williams dropped 15 points from the bench shooting a perfect 100% from the field and from deep. He was hitting his usual corner three's while also helping on defense. New addition Malcolm Brogdon also showed up with 16 points off the bench.
The C's went into halftime tied with Philly at 63-63. But thanks to a 35 point third quarter, the Celtics were able to get in double digits and pull away the win. Also in the third quarter, a scrum started between Marcus Smart and Joel Embiid in midst of what the center thought was a dirty play by the reigning defensive player of the year.
Sixers star center Embiid had a tough night despite finishing with 26 points on 50% shooting from the field. Every time he touched the rock in the paint, there was another green jersey to play help defense. The Celtics' help defense forced Embiid to make 6 turnovers throughout the course of the game.
As for James Harden, he played well and looked like he was back to the guy we saw in Houston. He was shifty, stepping back and knocking down shots, and facilitating the ball. Harden put up 35 points, 7 assists, and 8 rebounds. He also was a perfect 12 for 12 at the line.
The season opener wasn't just about the win or the putting gossip in the rear view mirror that made this game special, it was also a night that honored the late great Bill Russell.
For Celtics' interim coach Joe Muzzulla, he got his first win as a head coach as well.
"It was a proud moment," Mazzulla said. "I think at the end of the game, the 'Let's go Celtics! 'chant — we picked up right where we left off. … When they're cheering for you, you're doing something right."
The Celtics will head to Miami Friday to take on the Heat in a rematch of the eastern conference finals last year. As for the Sixers, they'll have their home opener tomorrow against the Milwaukee Bucks.