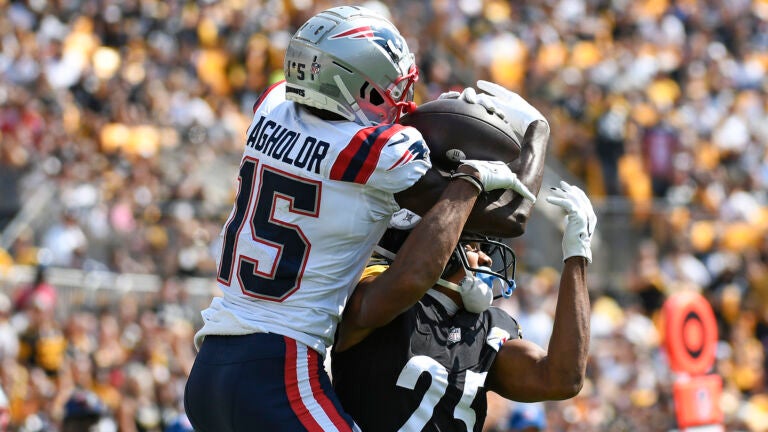 The New England Patriots went up to Heinz field to defeat the Pittsburgh Steelers 17-14 in a week 2 AFC matchup. The game had it's moments to say the least. As for New England, it's a nice bounce back from their underwhelming performance against Miami last week. Here's 5 takeaways from Sunday's game.
Pats defense is sharp
Jalen Mills may have been the only Patriot to get an interception on Steelers quarterback Mitch Trubisky, but the rest of that defense was also great. Patriots held Najee Harris to 49 rushing yards and no touchdowns, Diontae Johnson to 57 yards and no touchdown, and held Trubisky to 168 yards and a dozen incompletions. Trubisky was only sacked three times, but he was rushed on plenty more snaps.
Despite the injury, Kyle Dugger has proven to be a great pickup in that secondary. 
Mac Jones is getting it together
Mac Jones' 252 passing yards, 1 touchdown, and 1 interception may not be impressive on the stat sheet—but if you saw week 1 you'd know that he stepped up. That's not to say there weren't plenty of drives he didn't make the right read. But he was accurate enough when he needed to be. Jones took chances, and in some ways it worked, in other ways it didn't. But one thing is for sure, Jones was more confident.
The receiving core has potential
Nelson Aghlor's touchdown connection just before halftime was the only real highlight for the low scoring game. Aghlor finished with 110 yards while Jakobi Meyers finished with 95 yards. Hunter Henry was targeted once. Jonnu Smith was non existent. And Kendrick Bourne saw more playing time but only caught two passes. And DeVante Parker was thrown to, but one targeted pass ended up being an interception. This receiving group is talented, but the offensive play-callers need to figure out how to get the ball to them.
The offensive line stepped up HUGE
As expected, the offensive line was figured out in week 2. Jones wasn't sacked, the pocket was clean on most plays, and they were able to get movement on running plays. Of course, part of that is because of no TJ Watt—but attribute it to the adjustments New England has made instead. Now if only the passing and running game could do more.
Patriots have toughness 
It's not easy playing a second consecutive game on the road and getting a win. Especially after an ugly loss. But the Patriots did just that. Despite the offensive struggles, the defense didn't break and the offense pulled it together. They showed grit and toughness down the stretch to force three and outs. This team is moreso made for the colder months of football.